Covid-19 has had a huge impact on how everyone interacts, in particular how people meet and create new relationships. Inga Verbeeck, Founder and CEO of Ivy Relations, tells us how the dating scene has changed over the last year.
Verbier is the perfect melting pot of like-minded people: meeting potential love interests is easier here than in most places. There's a whole generation of children in Verbier whose parents met on the mountain, at après-ski, or latenight dancing. But how has the last year been for singletons hoping to find a 'partner in crime'? Lockdowns, governmental restrictions and bans on travelling have complicated the dating scene. This is where Inga and her team of matchmakers come in.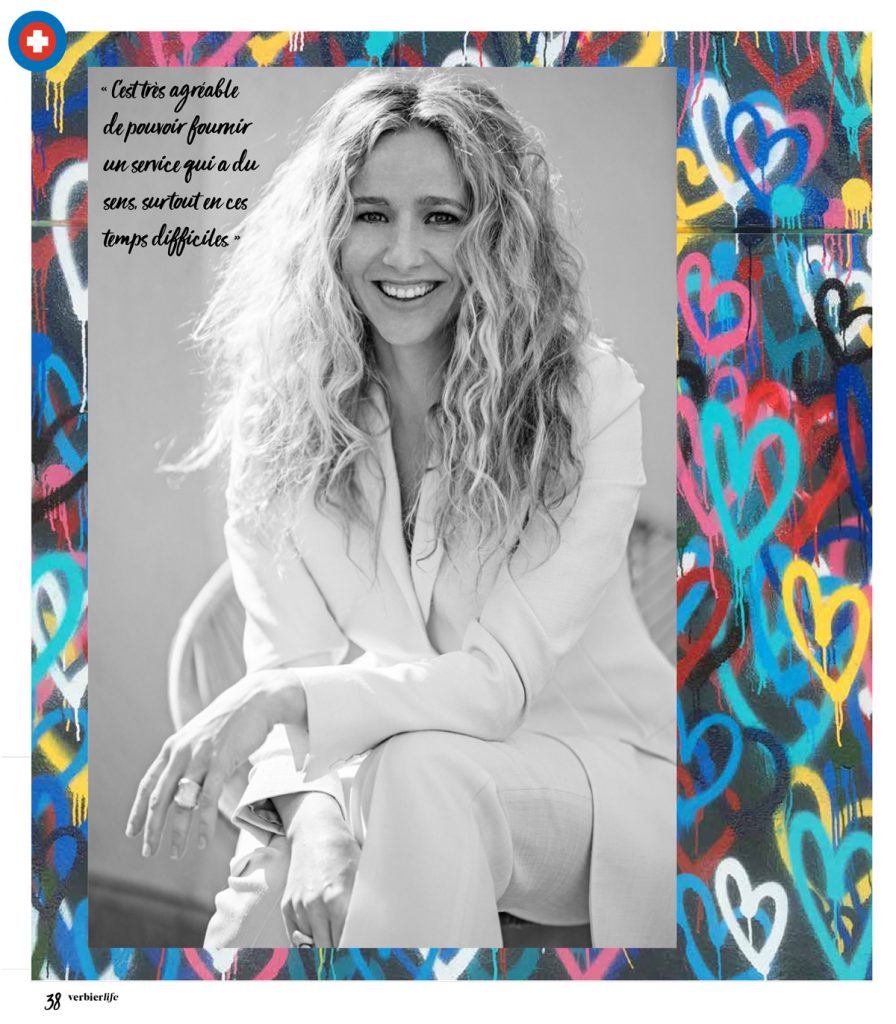 Having married early at the age of 21, Inga found herself a divorcée at 29. A friend persuaded her to try a dating agency but the experience didn't work for her. She did however, fall in love with the idea of creating an agency that addressed the aspects she felt were missing from the market. Inga, whose second-home since childhood is Verbier, tells us how her business, which caters to an international clientele, has adapted over the last year.
VL: How did you initially adjust to restrictions due to Covid-19?
Inga: Whilst this new reality came as a shock to us all, it became clear very quickly that we would have to work with it – not against it. Swiftly experiencing a surge in interest, we understood people were seeking solutions and guidance to counter the social disconnect. We have been tracking international restrictions ever since, looking for legal, Covid-regulation-conforming windows of opportunities and then guiding our clients through them in order to facilitate human connection. Motivational tips were given to help people embrace the digital platforms such as Zoom that they would be using to initially build relationships, until a window allowed them to meet. Before the pandemic it was unimaginable that someone would sign up as a member without having met with us in person but over the last year enquirers have been more inclined to go ahead in order to pro-actively create opportunities that will help them achieve their personal goals.
VL: What are the main changes you've seen to the dating scene over the last year?
Inga: I believe that whilst people have missed going out, enjoying parties and immersing themselves in that concert or festival, more than anything else they have been confronted with loneliness and realised the value of having loved ones close. As a result, I believe that more people are looking for a profound connection – someone with whom they can do all the fun stuff!Clients who come to us today are much clearer and more specific regarding their desired match. We have also seen a significant influx of 30-something-year-olds, increasing our younger client base and broadening it overall. Our clients are pushing borders and boundaries to overcome these not-so-ideal circumstances.
VL: What are the biggest challenges when matchmaking with the Covid restrictions?
Inga: The bar has quite simply been upped. Without restrictions it was easier to be open to all options, hop on that plane, meet and explore – people are now compelled to be more selective and strategic about who they meet. Luckily, we have been able to match their expectations, especially thanks to our headhunting programmes which have exponentially increased the opportunities we can provide. And increased opportunities result in people finding love and happiness, which is the bit of light we are able to bring.
VL: How are people overcoming obstacles like travel restrictions, along with all the other rules in place, while dating?
Inga: In these challenging times people have shown themselves to be more creative and resourceful than we would have predicted: an aspect which is great to witness. We've had people meet in simple ways such as a walk in the park with a coffee in hand, to more elaborate first dates, such as in the Seychelles after several mandatory tests and a ten-hour flight!
VL: How do you organise a Covid-safe date?
Inga: Given that in most cases people travel to see each other, Covid-testing is mandatory. We keep track of regulations and restrictions so as to help guide and support our clients to meet in a cautious manner that respects the Covid measures. It is an inevitable subject that we have found everyone open to tackle responsibly.
VL: How do you find your 'pool' of potential matches?
Inga: Firstly, let's differentiate a client from a potential match a client is seeking. Generally, clients find us: through Google, word-of-mouth or otherwise. We have two kinds of membership formulas. For one we present clients to clients within a closed and safe environment, for the other we headhunt specifically at the request of discerning clients. Our headhunting has evolved from classic networking with limited results to large-scale digital search processes. Covid-19 has accelerated that evolution for us. The amount of people responding to our proactive outreach has gone up remarkably as this pandemic has made people more receptive to new – even unexpected – opportunities. I do believe that 'swiping and being swiped' fatigue – a trend which had started before this pandemic is also playing into this dynamic. A good thing if you ask me.
VL: Do you have any interesting success stories from the last year?
Inga: One gentleman, who was an existing client before Covid, came to see me this past summer after the first lockdown. He told me that the lockdown had really motivated him to prioritise his personal life over his life as a successful entrepreneur and asked how we could accelerate and optimise the search. We started a targeted headhunting search for him. After diligently processing profiles he went on his first date some weeks later and is now due to meet her family. His story is one that underlines the fact that life is about making things happen for yourself.
VL: How do you see the next year ahead?
Inga: As very promising and intense. It's quite delightful to be able to provide a service which has meaning, especially in these challenging times. This, and perhaps future pandemics, will have an everlasting impact on our lives. For the foreseeable future dating will remain socially challenging. But life is too short not to be lived. So, we will face the challenges, work with them and think outside the box. I think it's going to be a busy year for us.
Share this post